Loving care for children
who really need it.
When your child has profound needs, you both need a lot of support, our family is here to help yours.
Special needs are our specialty.
Special needs are our specialty.
ArchCare at Mother Cabrini Hospital in Manhattan, a home for children and young adults with special health care needs and support services is dedicated to helping children with serious developmental disabilities and other extraordinary medical needs reach their highest potential. This warm and nurturing environment will become a real home to them, and a second home to your family.
Your child's dedicated Care Team.
Our extended family of caregivers will shower your child with attention and love. Our goal is to give them the most helpful medical and neurological care, but also spark joy in their daily lives. Your dedicated Care Team will work hand-in-hand with your family to help your child live the best life possible. Your child will participate in developmental programming from New York City Board of Education teachers, creative art therapists, and certified recreational therapists. Their days will be filled with attention, stimulation, and celebrations. 
Your Care Team will include:
Physicians
Nurse practitioners
Registered Nurses
NYC BoA teachers
Certified recreational & arts therapists
Physical & occupational therapists
Social workers & pastoral care
Our Protect Program.
As a part of ArchCare, ArchCare at Mother Cabrini Hospital, benefits from our system-wide Protect Program. We are committed to keeping those in our care safe and healthy towards infectious threats. Throughout the continuum of care, preventive strategies, including vaccination, hand hygiene, respiratory etiquette, and early testing if exposed and symptomatic, are discussed and encouraged with residents, plan participants, and their families.
Our comprehensive infection prevention initiative includes ongoing monitoring by our staff, including an Infection Prevention and Control Nurse (IPCs) at every nursing home and an Infectious Disease Medical Director. The IPCs conduct daily rounds and ensure that staff are following proper PPE usage as well as help to create a safe environment for all in our care.
Safety training for all staff members for in-home visits
PPE protocol followed at all times
ArchCare at Mother Cabrini Hospital at Terence Cardinal Cooke
ArchCare Senior Life PACE at Cabrini of Westchester
115 Broadway
Dobbs Ferry, NY 10522
Main: : 1-914-326-3199

ArchCare Senior Life Harlem PACE Center
1432 Fifth Avenue
New York, NY 10035
Main: : 1-646-289-7700

ArchCare at St. Teresa Autism Housing
139 Windsor Road
Staten Island, NY 10314
Main: 1-855-951-2273

Ferncliff Nursing Home and Short Term Rehab
Long-term Care
Short-term Rehab
Center for Advanced Memory Care
Center for Huntington's Disease Care
21 Ferncliff Drive
Rhinebeck, NY 12572
Main: 1‑845‑876‑2011
Admissions: 1‑845‑516‑1652

Calvary Hospital and Calvary at Home
1740 Eastchester Road
Bronx, NY 10461
Main: 1‑718‑518‑2000

Mary-Manning Walsh Nursing Home and Rehabilitation Center
1339 York Avenue
New York, NY 10021
Main: 212-628-2800
Admissions: 212-628-2800 ext. 2243

San Vicente de Paúl Nursing Home and Rehabilitation Center
Long-term Care
Short-term Rehabilitation
PACE Center
900 Intervale Avenue
Bronx, NY 10459
Main: 917-645-9200
Admissions: 917-645-9225

Terence Cardinal Cooke Health Care Center
1249 Fifth Avenue
New York, NY 10029
Mother Cabrini Hospital for Children with Special Needs
Learn More
Hospital for Huntington's Disease
Learn More
Hours: Open 24/7 
Main: 212-360-1000
Admissions: 212-360-3980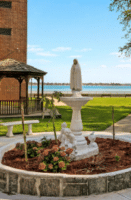 Providence Rest Nursing Home and Rehabilitation Center
3304 Waterbury Ave
Bronx, NY 10465
Main: 1‑718-931-3000

Carmel Richmond Healthcare and Rehabilitation Center
Long-term Care
Short-term Rehabilitation
PACE Center
88 Old Town Road
Staten Island, NY 10304
Main: 1‑718‑979‑5000
Admissions: 1‑718‑668‑8520