We are here to care for
your loved one with Huntington's Disease.
Mixing compassion and cutting-edge science, we are the home of choice for those with Huntington's Disease and their families.  
Ground-breaking Huntington's Disease care.
A pioneer in the highly specialized and complex treatment of Huntington's Disease, ArchCare is one of the country's largest care providers for this challenging disorder. Our two nationally recognized centers — one in Manhattan and the other in the Rhinebeck, New York — provide exceptional care that focuses on enhancing your loved one's physical health and spiritual well-being in the face of this difficult disease. The staff of our dedicated care unit provides extensive clinical support, therapies, and recreation for your loved one, along with emotional support services for your family. Our goal is to help them best manage their symptoms and enjoy the highest quality of life they can have while living with Huntington's, ALS, and other neurodegenerative disorders.
Your dedicated Care Team.
Your dedicated Care Team.
When your loved one joins us at Terrence Cardinal Cooke or Ferncliff, they will be supported by a dedicated interdisciplinary Care Team lead by a physician who specializes in HD. State-of-the-art technology, specially-adapted architecture, and onsite psychiatric and behavior management services ensure your loved one is safe and comfortable. We offer a wide range of supportive services for the rest of your family, especially those who may be at risk for Huntington's Disease themselves.
Your loved one's Care Team will include:
Internal medicine physicians
Nurse practitioners
Registered Nurses
A movement disorders neurologist
Psychiatrists
A nutritional specialist
Physical, occupational, & recreation therapists
An adaptive equipment specialist
A speech pathologist
Social workers & pastoral care
Our Protect Infection Prevention Program
We are committed to keeping those in our care safe and healthy towards infectious threats. Throughout the continuum of care, preventive strategies, including vaccination, hand hygiene, respiratory etiquette, and early testing if exposed and symptomatic, are discussed and encouraged with residents, plan participants, and their families.
Our comprehensive infection prevention initiative includes ongoing monitoring by our staff, including an Infection Prevention and Control Nurse (IPCs) at every nursing home and an Infectious Disease Medical Director. The IPCs conduct daily rounds and ensure that staff are following proper PPE usage as well as help to create a safe environment for all in our care.
Safety training for all staff members for in-home visits
PPE protocol followed at all times
Huntington's Disease Center locations.
ArchCare Senior Life PACE at Cabrini of Westchester
115 Broadway
Dobbs Ferry, NY 10522
Main: : 1-914-326-3199

ArchCare Senior Life Harlem PACE Center
1432 Fifth Avenue
New York, NY 10035
Main: : 1-646-289-7700

ArchCare at St. Teresa Autism Housing
139 Windsor Road
Staten Island, NY 10314
Main: 1-855-951-2273

Ferncliff Nursing Home and Short Term Rehab
Long-term Care
Short-term Rehab
Center for Advanced Memory Care
Center for Huntington's Disease Care
21 Ferncliff Drive
Rhinebeck, NY 12572
Main: 1‑845‑876‑2011
Admissions: 1‑845‑516‑1652

Calvary Hospital and Calvary at Home
1740 Eastchester Road
Bronx, NY 10461
Main: 1‑718‑518‑2000

Mary-Manning Walsh Nursing Home and Rehabilitation Center
1339 York Avenue
New York, NY 10021
Main: 212-628-2800
Admissions: 212-628-2800 ext. 2243

San Vicente de Paúl Nursing Home and Rehabilitation Center
Long-term Care
Short-term Rehabilitation
PACE Center
900 Intervale Avenue
Bronx, NY 10459
Main: 917-645-9200
Admissions: 917-645-9225

Terence Cardinal Cooke Health Care Center
1249 Fifth Avenue
New York, NY 10029
Mother Cabrini Hospital for Children with Special Needs
Learn More
Hospital for Huntington's Disease
Learn More
Hours: Open 24/7 
Main: 212-360-1000
Admissions: 212-360-3980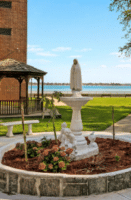 Providence Rest Nursing Home and Rehabilitation Center
3304 Waterbury Ave
Bronx, NY 10465
Main: 1‑718-931-3000

Carmel Richmond Healthcare and Rehabilitation Center
Long-term Care
Short-term Rehabilitation
PACE Center
88 Old Town Road
Staten Island, NY 10304
Main: 1‑718‑979‑5000
Admissions: 1‑718‑668‑8520