Helping adults
with Autism live more independently.
With ArchCare at St. Teresa, we've created a model of care to help adults with Autism live and thrive in a group living atmosphere.
A real solution for living with Autism.
St. Teresa is the first in what we hope will be several facilities that care for the underserved and marginalized of our communities, including those with autism. As young people in their 20s begin to age out many of the Autism support and educational services that were available to them when they were younger are unavailable, it puts a major burden on both themselves and their families. Because of this need, we created special housing where adults of any age can learn the skills and strategies live independently — fostering their pride and confidence, and giving their families peace of mind. Housed in a former convent, their apartments are thoughtfully designed, with auto-off features on burners and lights. The close-knit residents enjoy group activities and classes that bring them together to create lifelong friendships. In keeping with our ArchCare mission, we care for each of them as a whole person, always treating them with dignity and respect. 
Services we offer and where to find them
Use our interactive map to find locations near you and the services we provide.
ArchCare Senior Life PACE at Cabrini of Westchester
115 Broadway
Dobbs Ferry, NY 10522
Main: : 1-914-326-3199

ArchCare Senior Life Harlem PACE Center
1432 Fifth Avenue
New York, NY 10035
Main: : 1-646-289-7700

ArchCare at St. Teresa Autism Housing
139 Windsor Road
Staten Island, NY 10314
Main: 1-855-951-2273

Ferncliff Nursing Home and Short Term Rehab
Long-term Care
Short-term Rehab
Center for Advanced Memory Care
Center for Huntington's Disease Care
21 Ferncliff Drive
Rhinebeck, NY 12572
Main: 1‑845‑876‑2011
Admissions: 1‑845‑516‑1652

Calvary Hospital and Calvary at Home
1740 Eastchester Road
Bronx, NY 10461
Main: 1‑718‑518‑2000

Mary-Manning Walsh Nursing Home and Rehabilitation Center
1339 York Avenue
New York, NY 10021
Main: 212-628-2800
Admissions: 212-628-2800 ext. 2243

San Vicente de Paúl Nursing Home and Rehabilitation Center
Long-term Care
Short-term Rehabilitation
PACE Center
900 Intervale Avenue
Bronx, NY 10459
Main: 917-645-9200
Admissions: 917-645-9225

Terence Cardinal Cooke Health Care Center
1249 Fifth Avenue
New York, NY 10029
Mother Cabrini Hospital for Children with Special Needs
Learn More
Hospital for Huntington's Disease
Learn More
Hours: Open 24/7 
Main: 212-360-1000
Admissions: 212-360-3980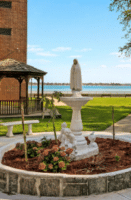 Providence Rest Nursing Home and Rehabilitation Center
3304 Waterbury Ave
Bronx, NY 10465
Main: 1‑718-931-3000

Carmel Richmond Healthcare and Rehabilitation Center
Long-term Care
Short-term Rehabilitation
PACE Center
88 Old Town Road
Staten Island, NY 10304
Main: 1‑718‑979‑5000
Admissions: 1‑718‑668‑8520